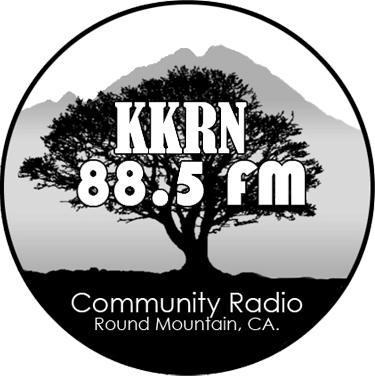 KKRN FM
,

is a volunteer-based, listener-supported radio station
fostering positive social change and healthy communities
by entertaining, informing and educating
through diverse music, culture, news, and public affairs programming.
It has been a struggle to have regular, dependable sources for KKRN other than over the airwaves. Anything unreliable is left behind. PLEASE check us again. The app on Google Pay and iPhone are working. You might have to pause before hitting the "mic" icon but they have been consistent. TuneIn on your phone and Echo Alexa are working now as well. Just ask her. "PLAY KKRN". Please give us feed back. 530 337-1101. WE KNOW IT IS IMPORTANT. Thanks

Hello listeners, supporters, friends and neighbors,
I would like to thank you for listening to KKRN Community Radiob and for the generous support you, our community, have given us over our nine and a half years on the air. The Covid19 pandemic, the fires and smoke are challenges for all of us. At KKRN, not being able to do our public fundraising events is causing a loss of needed income. If you are able, we would greatly appreciate "extra" support from you to make up for our lack of fundraisers. We are doing everything we can think of to raise extra money including writing grants. We can't wait to be able to hold our pancake breakfasts, concerts and dinner theaters again. In the meantime if you could send us $10 or $15 in lieu of a missed event, we sure would be grateful. Go to kkrn.org or mail a gift to: PO Box 188 Montgomery Creek,96065. We look forward to seeing you in person just as soon as that is possible. Stay safe.

Thank you for all you do for KKRN Community Radio,

Ellen Sugg