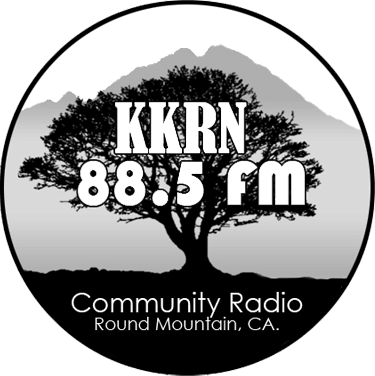 KKRN FM
,

is a volunteer-based, listener-supported radio station
fostering positive social change and healthy communities
by entertaining, informing and educating
through diverse music, culture, news, and public affairs programming.
Come to Gray Pine Farm in Oak Run. 27723 Raspberry Lane. Past the Oak Run Store, turn right at the school. Music all day on the stage and "tweeners". Performers include Dan Casamajor & the C Majors • Buckhorn Mt. Stompers • The Skillmans Patty Anglin and The Mountain Messengers • Hannah Kile • Pine Dogz Jo Chavez & Los Caballitos de la Cancion • Old Spice AND MANY OTHERS.
Ribs and chicken BBQ served at 6PM. Reservations advised. Call 530 472-3303 Sandwiches available until 3.
Beer, wine and soft drinks for sale. Bring your lunch, low chairs and a sweater. Leave pets and alcohol at home. Information at 530 520-1593 or 530 337-1101 THIS EVENT IS FREE. and a fundraiser for KKRN Community Radio 88.5 FM.
Los Caballitos de la Canción ("the little horses of the song") is a 9-member group of professional musicians from diverse musical backgrounds who have come together to promote the potent musical expressions of the Latin culture.

Los C band fuses a variety of Latin influences from Mexico, South American, and Spain to create the sounds of both traditional and contemporary musica Latina. The musical message is universal, be it a traditional Mexican ballad or a contemporary Columbian pop song: It speaks of one's homeland, love found, love lost, love imagined, family, blessings and curses, the gods and demons of life, and the beauty and tragedy of it all! It is the music of the people.