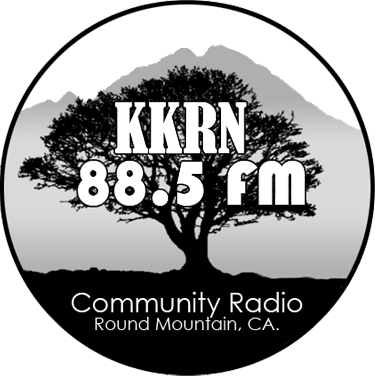 KKRN FM
,

is a volunteer-based, listener-supported radio station
fostering positive social change and healthy communities
by entertaining, informing and educating
through diverse music, culture, news, and public affairs programming.
Can't hear KKRN where you are? Try these tips!
Clicking on the Donate button on this website or mailing a check to P.O. Box 188 Montgomery Creek, Ca 96965 are pretty easy ways to support your local community radio station, but there are some new ways to do so without having to write a check or hand over cash!
The newest way involves Amazon and AmazonSmile. If you use them for purchases, you now have the option to select our non-profit organization to receive a small percentage from AmazonSmile for most things you buy there. You pay nothing extra, Amazon just donates 0.5% of certain purchases to us. You simply have to name us as your charity of choice on AmazonSmile. The name to select is: Acorn Community Enterprises. That is the non-profity entity which owns KKRN Community Radio.
We also get similar support from Save Mart. If you shop at Food Max, Lucky's, Save Mart or Smart Foods , you can use a so-called SHARES card each time you buy something. There is no cost to you - they will donate 0.2--0.3% of certain purchases to KKRN/AcornCE. To get a card, please call us at 530-337-1101 to give us your mailing address and we will send you a card.
These donations are often small, but none-the-less, they are helpful to KKRN. Every little bit helps fill the till and keeps KKRN's programs coming your way!